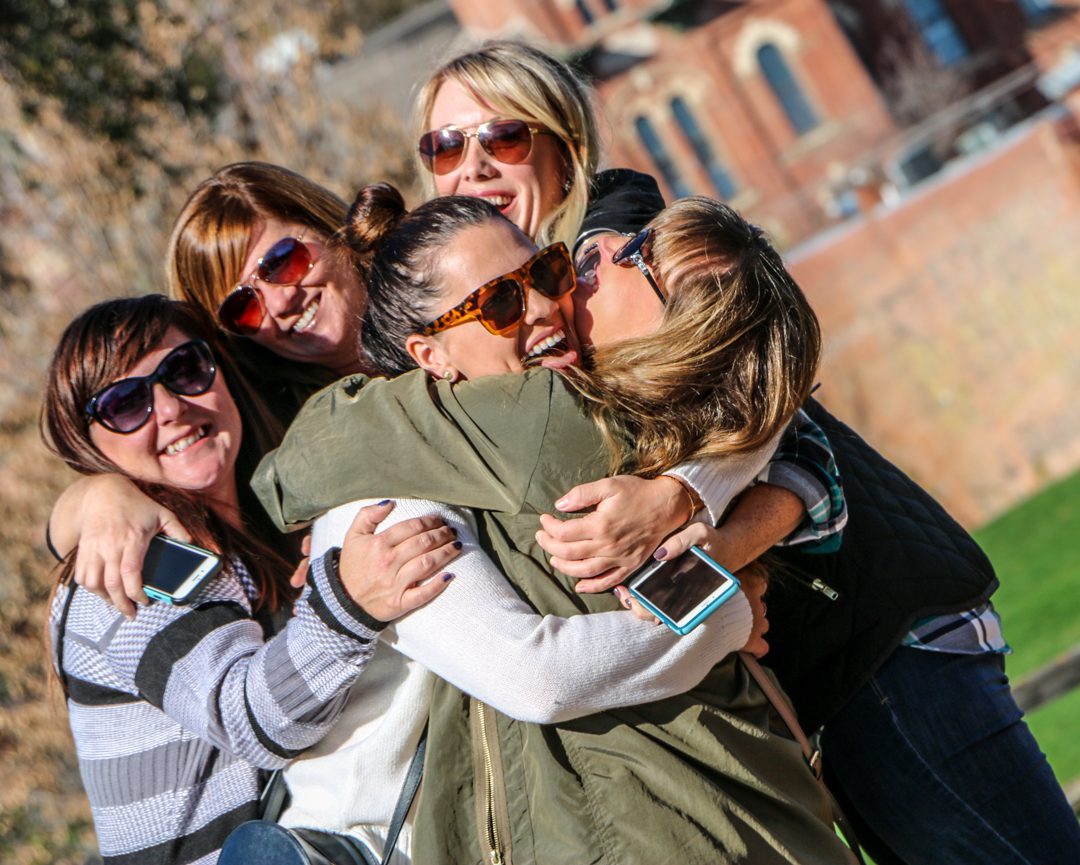 Your Guide to Making Friends on the Road
7. July 2020
Guest article by Jen Nilsson
As you plan for your solo trip, you may feel a nagging worry. One that you try to suppress while you focus on the excitement of what's to come, but a worry that needles at you none the less. That worry is loneliness.
It's an understandable concern. When I packed my bags for my first solo adventure, I also packed a whole lot of worries with me. I was newly alone after my partner died of a swift and brutal cancer and, though I was looking forward to escaping my life for a while, I was also fretting about being lonely.
One of the most surprising lessons that I learned on the road was that solo travel does not necessarily mean traveling alone. You will meet many other like-minded travelers and welcoming locals.
Here are some of the ways that I learned to leave my concerns about loneliness behind while making friends on the road:
Embrace Communal Space
I don't mean staying in a hostel, necessarily. Hostels were certainly a great option for me for a while, but as an introverted extrovert who enjoys alone time and does not enjoy bunk beds, I usually don't do the hostel thing.
However, there are so many other ways to enjoy communal space!
Consider renting a room with a local host using Airbnb. This provides you with your own space but allows for an opportunity to make a new friend of your local host.
Another option that I love is TrustedHousesitters. Using this arrangement, no money is exchanged between house sitter and homeowner, and you will have your own space. However, you will be responsible for caring for the home and, often, the homeowner's animals. I love this option because it is very budget friendly in that there is no cost for the accommodation, but you will also meet and spend time with the homeowner. I have made many new friends (both human and puppy!) this way.
Using TrustedHousesitters also necessitates trips to another communal space: dog parks!
If you do not want to walk a dog, look for restaurants with communal tables. While it can be a little intimidating to sit down alone at a communal table, you will get over this quickly as the people next to you will often include you in their conversation immediately.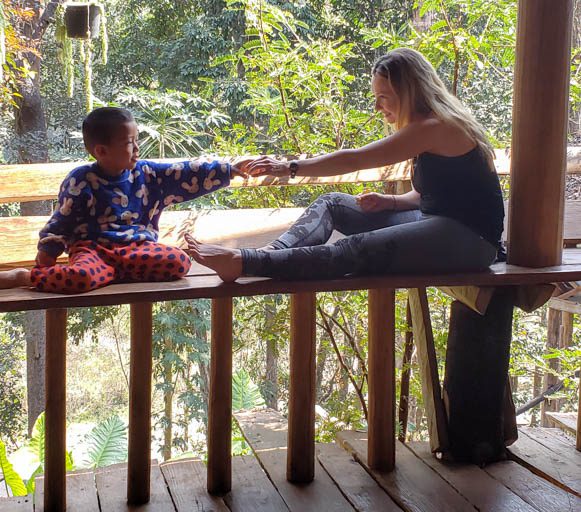 Choose a Neighborhood to Love
When searching for accommodations, research neighborhood with a vibe that you love. I'm a writer, so I often search for neighborhoods with a writing or artist community. Then I really get to know the neighborhood using some of these methods:
Spend your first night at the local pub and sit at the bar. Ask the bartender about places to visit in the neighborhood. Since this is a local pub, everyone seated at the bar will have an opinion and will likely chime in. I made many new friends this way while traveling solo.

Pro tip: Don't want to drink? Order a non-alcoholic ginger beer in a pint glass.

Do your grocery shopping at the local farmers market.
Look for a neighborhood website or a neighborhood blog that features upcoming events in the area.
Find a local coffee shop and read the local paper there every morning of your trip. You will get to know the locals and the local news this way.
Entertain Spontaneity
You've heard of the old throw the dart at the map trick, right? Personally, I'm too Type-A to randomly pick my next travel destination from a tossed dart, but why not pick an event for one night randomly?
That same local coffee shop that you've been visiting will likely have a community board with upcoming events. Randomly select one that catches your eye and go to that local book reading, poetry slam or volunteer opportunity.
Checkout Groups and Local Meetups
You've probably already scanned your social media contacts for anybody who might live in the area, but what about posting a message to your favorite groups to see if anybody lives nearby?
Girls Love Travel is a huge network for female travelers.
Meetup.com features local events within specific categories like "outdoors & adventure" or "arts" or "sports".
Travelita's Travel Community is also a great way for solo female travelers to connect.
Go on a Group Food Tour with a Local
Booking a group food tour is one of the things that I love to do immediately upon arriving in a new destination. Getting to know the way that people eat in any given destination is getting to know the culture of the place. Doing a group tour also allows you to meet new people, including the local guide.
Go on a Multi-Day Group Trip
I like to stay in a place for an extended period of time, really getting to know the neighborhood. But, when I'm not housesitting, I also book overnight group trips during my extended stay, so that I can explore the surrounding area with a group of people and a local guide. This makes for a good balance between group time and alone time, and provides an opportunity to meet other like-minded travelers.
Take a Class
Cooking, wine tasting, painting, coffee brewing, the list goes on and on. Look at Airbnb Experiences for group classes that will have you learning and laughing in no time.
Travel for a Specific Reason & Stay a Bit Longer
Into books or music or yoga? Travel for a festival or event but stay on longer after the event is over. You will meet new friends at the event who live in the area or who are traveling in the area.
I discovered this guaranteed way to make like-minded friends after attending the Bali Spirit Festival in Ubud. I only attended the festival for one day, but I stayed in Ubud for a month, meeting many fellow yogis like me.
Use an App
I don't mean dating apps, necessarily, though both Bumble and Tinder have the ability to filter for a friend search.
Travello is an app for meeting other travelers, Tourlina is an app for female travelers seeking to meet other female travelers, and Travel Buddies is an app for meeting travelers with similar itineraries or even local guides.
Also, check out Reddit and your destination's subreddit to discover events or attractions in the area that locals are talking about.
Travel with a Small Offering
I learned this tip while walking the Camino de Santiago, a pilgrimage across Spain. One of the women that I walked with brought stickers that read "no vino, no Camino". She gave these stickers out to fellow pilgrims and, more often than not, those pilgrims asked us where we would be having a drink that evening. We met so many people just by giving away something small that represented who we were and what we liked to do.
I saw another traveler who brought a portable printer with him. He then immediately printed out the pictures that he took and handed his new friends the small, but precious gift of a photograph. Small gifts are excellent ways to meet people and to maintain an ongoing friendship.
Many times, people, especially travelers, are craving that kind of contact.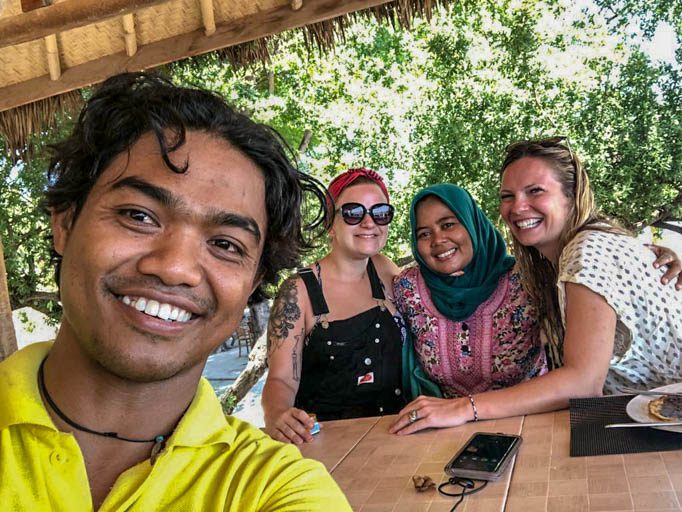 A fellow solo traveler – who is now a friend – taught me a very simple lesson when I met him on a rooftop in Kuala Lumpur. He said that meeting another traveler on the road is just like the moment when two children meet. There are no expectations. There is only an authentic curiosity about the soul of another.
About the Lens of Jen (lensofjen.org)
Jen Nilsson is a full-time travel blogger who changed everything about her life when her fiancé died of cancer at the age of 40.
After learning the hard way that life is too short to delay our dreams, Jen quit her corporate job, ditched high-heels for a backpack, and set out to see the world.
She now believes that life-changing moments exist outside the comfort zone. She has walked 500 miles across Spain on the Camino de Santiago, learned to surf in Bali, tried (and failed) to learn to scuba dive on a Thailand island, and finally, at the age of 37, learned to ride a bike while cycling through the vineyards of France.
The Lens of Jen is all about embracing a new "lens" on life when things don't shake out quite the way you planned.
YouTube: youtube.com/thelensofjen
Instagram/Twitter/Medium – @lensofjen
Free your travels, be a Travelita! #travelita #iamatravelita