Travelita's Airport hacks
17. October 2019
Traveling is amazing. Especially, if you let it start stress free and easy from the first moment on.

What does that mean?
We recommend that you do as much as possible in advance. Even here at Travelita's, we have a lot of women (including myself) that are more of a letting things happen while traveling; pre-planning in some areas does make sense.
First of all, check all the airport specifications before you go there. That includes, especially if having a connection flight, if you have enough time to catch the other flight – due to the size of the airport. There are some that have different terminals, and you have to even take a bus from A to B. If there is only one hour in between, you might not make it.
Airport transportation. Of course, at any time you might take a cab. But sometimes, public transport is faster, cheaper and easier,. It just depends on the time you are willing to investigate. We recommend you take a look some days before, evaluate your possibilities. You can still take a taxi if you want though. If you go with your own car, travel agencies might sell off cheaper parking spots a little outside or further away. Check these availabilities as well. And take a specific note, where you left your car! (Consider taking a photo of where you are parked).
Check specifics of your airline. Nowadays, some require self check in, self luggage drop, etc. Make sure you are prepared to do it on your own, or arrive with some extra time so you can ask for help and still make it happen before your plane leaves. You might also want to decorate your checked bags, especially if they have this 0-8-15 look. First, it will be easier for you to find them on the belt, second, in case of lost luggage, it will be easier for them to identify yours.
Have your traveling documents close, within easy reach. It's not the same at every airport, but there are a few you have to show tickets, passports kind of every minute.
We also recommend to have some travel essentials in your carry on bags, so in the unfortunate case of lost baggage, you have at least the most important items with you.
Also, you might want to bring water, or at least an empty bottle so you can (re)fill water once you are behind the carry on luggage check point.
Wear some of your luggage, like an extra jacket. Especially if you only use carry on.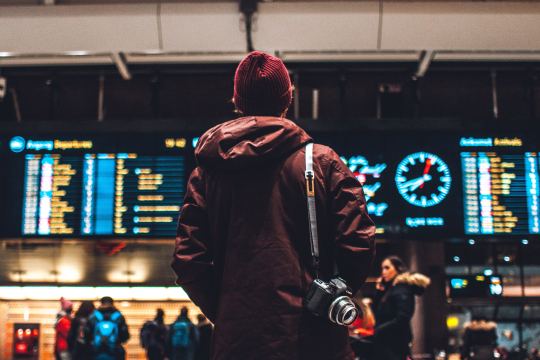 Pic by Eric Odiin, Unsplah

Some more advice? Let us know!2 notes